T
A Letter to My Great-Uncle Abe
I met Isabel Stern at ESU (English-Speaking Union) back in 2020 where she volunteered to curate the "English in Action" program for new immigrants–pairing them with native speakers to improve their cultural knowledge and language skills. After retiring from being a teacher in public school, she still volunteers her time to teach English to newly arrived immigrants from across the globe. Once in a conversation about Alan Ball's movie Uncle Frank, Mrs. Stern shared beautiful memories of her Uncle Abe. I asked if she'd be able to share some of them with us, and she wrote this beautiful and touching letter that I'm excited for you to read. —Mark Preston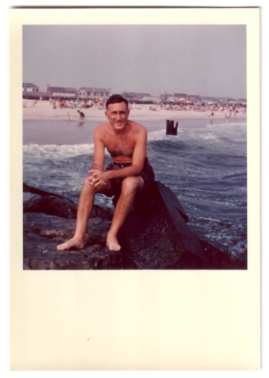 ABRAHAM BOMPEY
(1915 — 2003)
Dear Uncle Abe,
During the Pandemic, when people had time to think and go through old pictures, I found so many of you. I saw you in Europe with your "friend" Abe—there was such a beautiful expression between both of you that I felt your life was full of love and passion and joy. Part of me wishes you were here today to be able to live openly, get married, have children, and bestow on them all you gave to me. I hope I fulfilled some of that because what you gave to me I gave to my children and my grandchildren. Remember my son, your nephew was born on your birthday, and you were there to meet him.
How many years has it been since I lost you? Almost thirty? But you still are one of the most important men in my life. As an accomplished teacher, author, and principal, you were the one who taught me how to read—I still have my First Reader written in your exquisite handwriting. When I look at the stories we wrote together, it shows the times we lived in.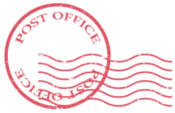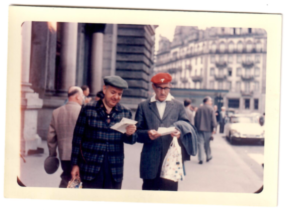 I remember visiting you in the school in Brooklyn where you were principal. When you walked into the various classrooms, the teachers welcomed you as did the children. Always impeccably dressed—pressed shirts, pleated pants, hair perfectly combed—an elegance and sophistication. There was laughter and joy when you spoke to them in your gentle but firm tones. You showed respect to them and they, in turn, gave you respect. I always loved going to work with you. That could be why I wanted so much to be a teacher—and remember—you got me my first teaching job with a friend of yours—even in those days, it was "who you knew" that mattered most.
Every Saturday afternoon, I would sit with you in the front row mezzanine at all the Broadway musicals. We saw Yul Brenner, Judy Holiday, Zero Mostel, Gordon McRae, Carol Channing, Rita Moreno, and Chita Rivera, to name a few. It is hard for me to see a revival now because I want the memories of watching them with you to be first and foremost in my mind. After the theater, I remember going to Rumpelmayers, the Palm Court at the Plaza, the Top of the 666s, and Oscars on the Upper East Side. On Sundays, you took me to the Brooklyn Museum, Botanical Gardens, and the Zoo at Prospect Park. You made sure we always saw Leo the Lion——our favorite. You introduced me to the arts and to your friends. I hope they were more than just friends, but it was a different time and a different culture. I wonder. How hard was it for you? You never showed it.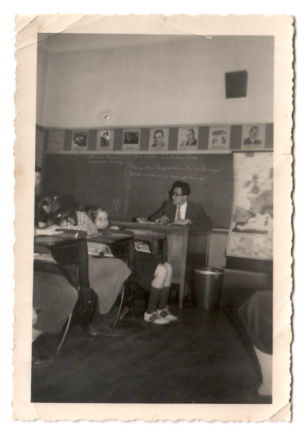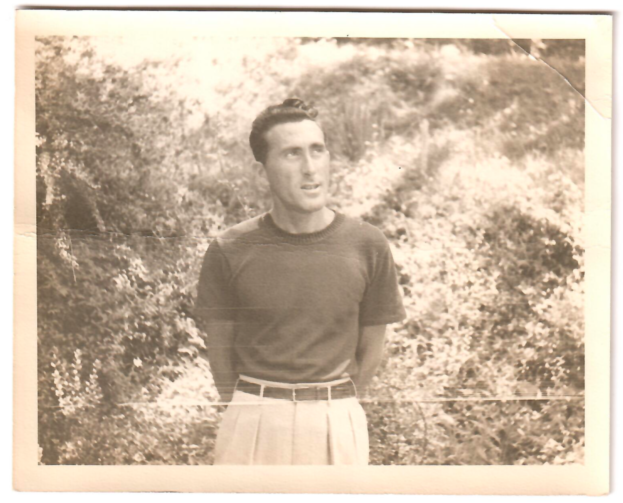 Sometimes I think about how different your life would be if you were living now. Would you have married your friends Abe or Fred? Would you have had your own children? The New York Times published a story about older gay and lesbian New Yorkers finding comfort, friendship, and love in their later years. I hope that you found comfort, friendship, and—most of all—love living with us because I certainly had it all living with you.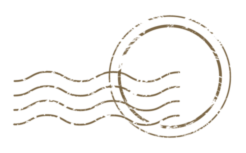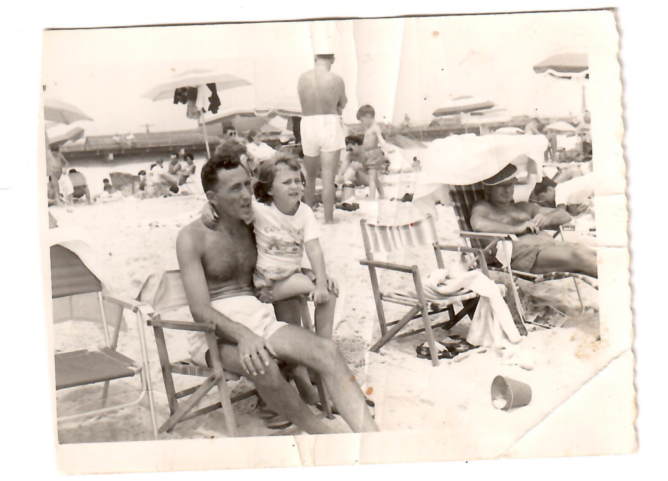 Isabel Stern with Uncle Abe in the Rockaways, circa 1960

For years, I never thought about whether you were gay. And then, I met through Facebook some friends from my childhood years whom I hadn't seen in a long time. We met for lunch and two of them said, "Did you know your Uncle Abe saved my husband's life?" I did not understand the context of the statement until they told me that you gave them teaching jobs in your school. I put two and two together and remembered that if you were a teacher, you did not have to go to fight in the Vietnam War. You got a deferment from being drafted. So they were right. And then they asked me if you were gay. And I remember asking if it mattered. For me, it didn't matter if you were straight or gay or bi. You were and will always be my uncle, and I loved you for being YOU!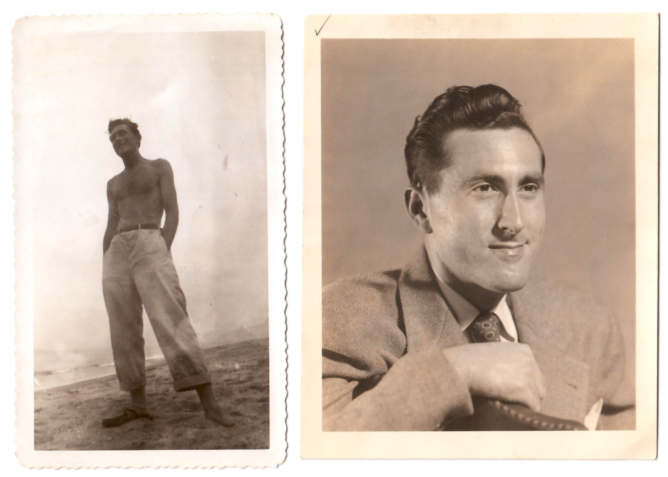 I wish I could put a stamp on this or type in an email address to send this letter to you, but somehow I know and hope that you understood all that you meant to me and still do. I am so proud that you were my Uncle Abe.
With love,
Your Niece Isabel

{"width":960,"column_width":122,"columns_n":6,"gutter":45,"line":20}
{"mode":"page","transition_type":"slide","transition_direction":"horizontal","transition_look":"belt","slides_form":{}}
{"css":".editor {font-family: Helvetica Neue; font-size: 16px; font-weight: 400; line-height: 24px;}"}