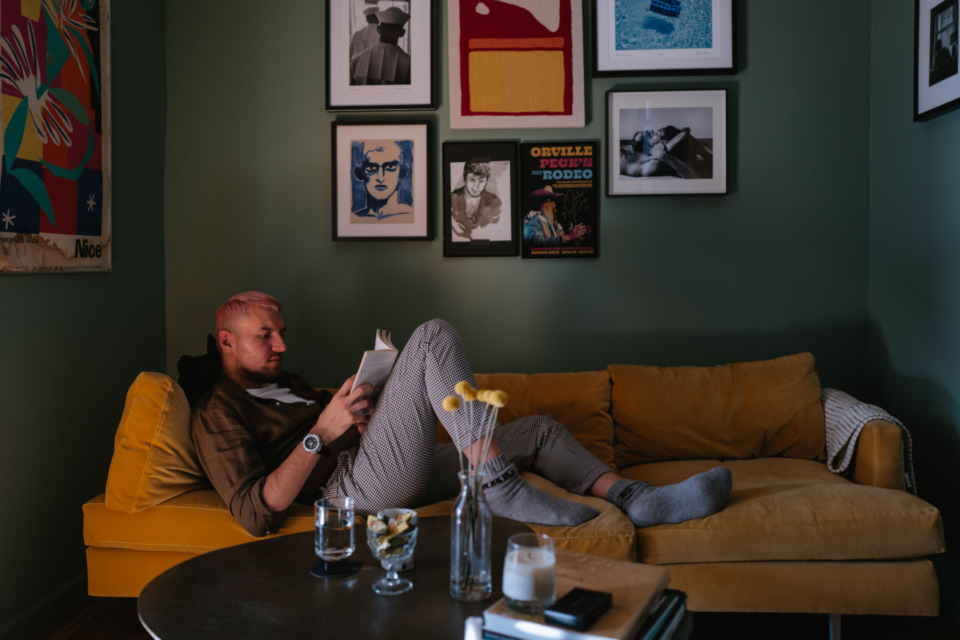 T
Getting Ready with
Mark Preston
In "Getting Ready with...," we ask our friends to share their skincare routines by answering a few questions. But today we're doing things a little differently. Basically, I was told that asking other men about their skincare routines and not sharing mine is just not fair. So here we go! Here's my beauty routine that some of you might want to know about.
MARK PRESTON interviewed by MARK PRESTON and photographed by MARK PRESTON
Skin type and age:
I'm 35 y.o. and my skin is generally oily, but over the years, I have learned how to deal with it.
What's your morning routine?
Because of my cat (thank you Puffita, if you're reading this) that gets annoyed if I'm up after 11 PM, I had to change my routine up a bit. I wake up around 7 AM, and if there is no urgent need to do work, I stretch, take a shower, and make myself a cup of coffee. Then I cook breakfast while browsing the news or catching up on an episode of the one-hundred seasons of RPDR. Usually, I'm very slow in the morning, so it takes some time to put myself together.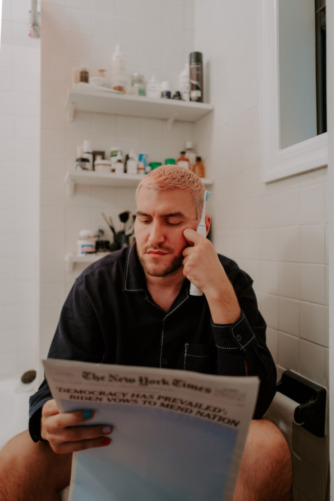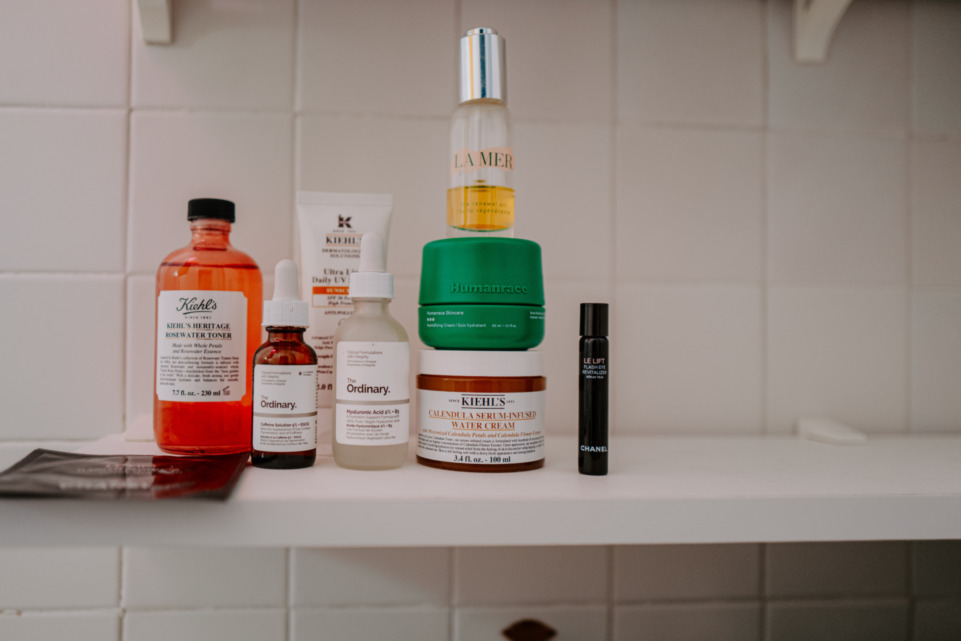 What is the step-by-step to your skincare routine?
Since I'm not getting any younger, unfortunately, I have a routine for day and night. Full disclosure, I have to say that all the products I mention below are the essentials I use constantly. There are plenty of other jars, though, left behind the scenes for different occasions.
In the morning, I start by cleansing my skin. Depending on the day of the week, it could be Calendula Face Wash by Kiehl's or Humanrace Rice Powder. I love washing my face with ice-cold water. Twice a week, I use Lotus Enzyme Exfoliator or Clarisonic brush. Then I put a few decent drops of toner such as Kiehl's Heritage Rose Water on with my hands to prepare my skin for receiving everything that comes next. Usually, as a first layer, I use The Ordinary Hyaluronic Acid. The bags under my eyes, unfortunately, are not from Chanel, so I treat them with Caffeine Solution or heavy-duty Le Lift eye patches by Chanel. Then comes the moisturizer, which is either Calendula Serum-Infused Water Cream or Humidifying Cream. It always depends on the weather outside, my skin needs, or the texture I'm feeling that day. If I'm feeling a little extra, I will add a couple of drops of Renewal Oil by La Mer. The final touch is Superfluid Daily UV Defense SPF. I do use makeup products as well, but that's a story for another time.
During the day, I have my Santa's Little Helper—my all-time favorite product that makes my face look like I just got off a yacht in Portofino—Bronzing Gel by Tom Ford. To reduce that 'natural glow'—aka oil—on my skin I always have handy Fenty Beauty Invisimatte Blotting Paper or Marc Jacobs Translucent Powder in my backpack. Also, I'm constantly having an affair with any kind of face mists. These days it happens to be with L'Occitane Comforting Mist.
My night-time regime is to wash my face, put some tonic on, and then moisturize. Two/three times a week I use Retinol Skin-Renewing Micro-Dose Serum. I highly recommend being careful with retinol serums because Micro-Dose is the key word in the previous sentence. Some people use it instead of cream and end up burning their skin. If that's the day when I'm using it, I won't mix it with any other products. Otherwise, it will be a very thick Creme de La Mer, or Midnight Recovery Concentrate. Also I never forget to take care of my hands. I like Aesop Hand Cream or Sundays Cuticle Oil. Remember what Mr. Tom Ford once said about putting your fingers in certain places?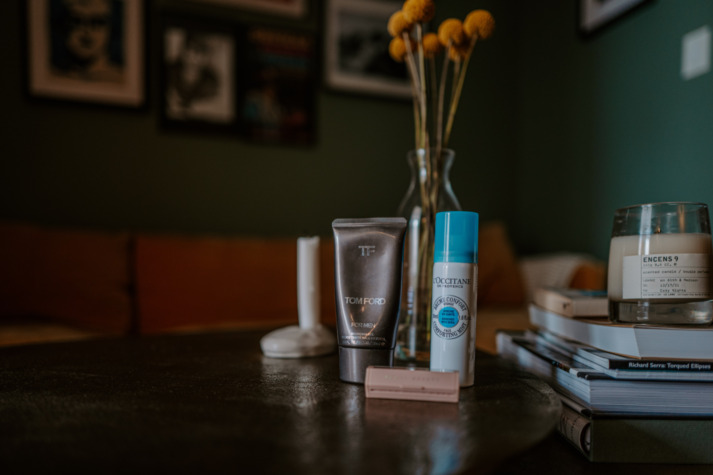 How do you decide what products you use based on how your skin feels that day?
I believe (which can be proved wrong) that my body and skin will send me push-notifications if there's a need. For example, I do understand how important it is to drink a certain amount of water in a day, but I'm not a big fan of constantly watering myself. When I don't drink enough water, I feel dryness on my skin, and that's a notification you can't turn off. The same goes for my beauty routine: exfoliating with peeling products twice a week or finding the patience for a face mask that always leaves my skin saying "thank you" the following day.
HOW DO YOU SHOP FOR SKINCARE PRODUCTS?
It takes me some time to do my research before purchasing any beauty product because I have had a bad experience listening to folks on YouTube. Let's be honest, not many of us live with beauty experts next door, myself included. But I am lucky to have a few friends who have worked in the beauty industry able to help with my struggle. One person's routine does not always work for others. For the condition of our skin, we don't have to always blame the wrong cream. This might be a reason for the issues that our body is experiencing. For that reason, I never miss annual checkups with the doctor to see if all indicators are in order. Showing up at the dermatologist's office never hurts too. Based on my skin needs, I try to discover some new products through professionals from the industry who are trying to find the best solutions.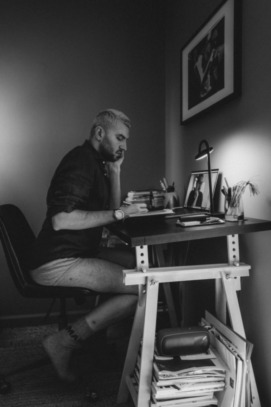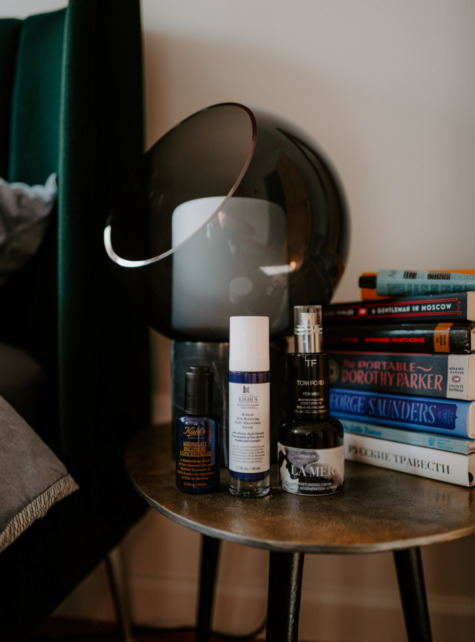 How would you define beauty?
There's a famous quote by the Russian writer Anton Chekhov, which became the definition of beauty to me: "People should be beautiful in every way — in their faces, in the way they dress, in their thoughts, and in their innermost selves." After all, to me, inner beauty is just as important as what's on the outside.
How does self care play into your confidence?
Self-care plays a crucial role in maintaining a healthy relationship with myself and others. If I avoid things that make me feel mentally and physically well, I will deplete my self-worth. This is something that not only builds confidence but also a positive impact and self-esteem.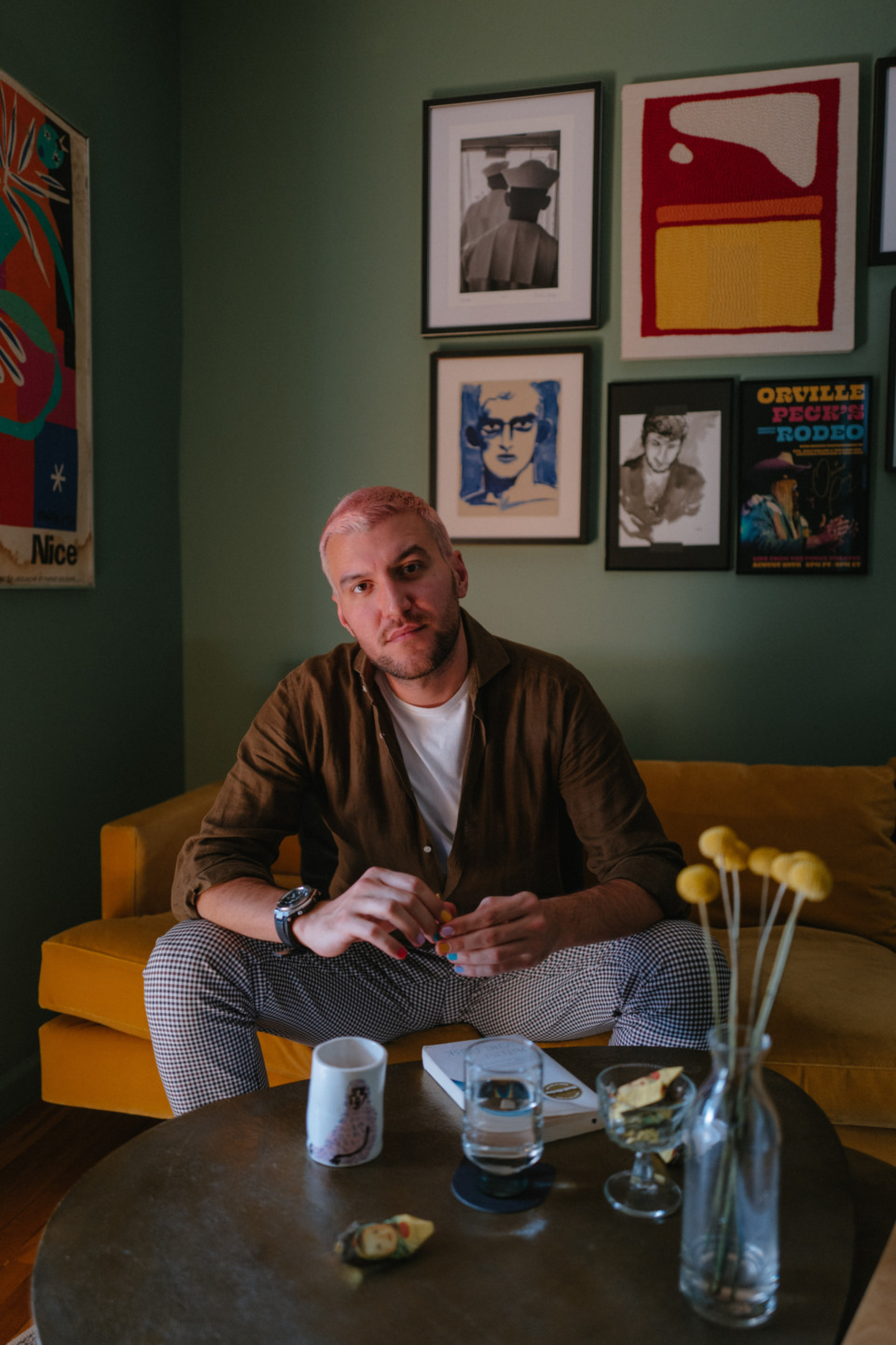 How long does it take for you to get ready head to toe?
I'm very easygoing. Usually, I would say probably around ten to fifteen minutes... Unless I decide to be a stylist and try everything I have in my Barbie-doll size closet. If there's some fancy reason for going out (God, I miss those reasons), it will take a bit longer to look extra.

{"width":960,"column_width":122,"columns_n":6,"gutter":45,"line":20}
{"mode":"page","transition_type":"slide","transition_direction":"horizontal","transition_look":"belt","slides_form":{}}
{"css":".editor {font-family: Helvetica Neue; font-size: 16px; font-weight: 400; line-height: 24px;}"}